HarperCollins serves up geo-targeted campaign
The publisher is targeting specific regions with its digital and print campaign for John Catucci's book You Gotta Eat Here!.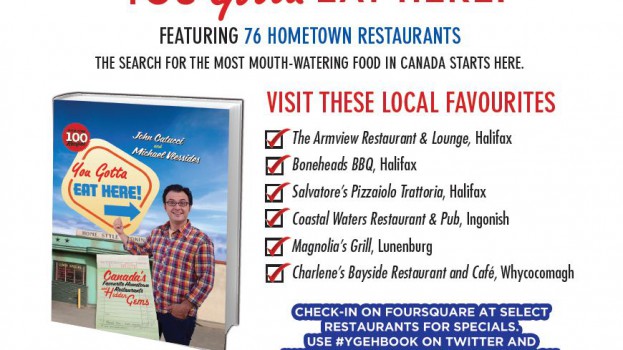 HarperCollins Canada is dishing out a new campaign for John Catucci's cookbook You Gotta Eat Here!, with tailor-made messaging for specific markets and local restaurants mentioned in the book.
The book follows Catucci as he travels Canada in search of the best foods and restaurants. It features 76 locations, such as Charlene's Bayside Restaurant in Whycocomagh, N.S., and Schwartz's Deli in Montreal, and also includes recipes from the locales.
The campaign, which targets men and women aged 18 to 30, was conceived and executed in-house by HarperCollins. It will include print ads in the Toronto Star, the Calgary Herald and the Halifax Chronicle-Herald, as well as digital spots on Facebook.
The campaign will rely heavily on social media channels, including Facebook, Twitter, Instagram and the individual FourSquare pages of the restaurants to engage fans and offer exclusive cooking tips and book giveaways.
HarperCollins has also partnered with some of the restaurants for promotions, which include in-store book sales, discounts, contests and other prize opportunities.
Cory Beatty, marketing director, HarperCollins Canada, tells MiC that this is the first time the publisher has tried a geo-targeted campaign like this.
"The book itself is geo-targeted and has sections based on each market and locale. So it decided for us," he adds, noting that Facebook fans in Halifax can log in and see different messages about different restaurants than fans in Toronto.
Beatty says that HarperCollins plans to expand the campaign, which launches Nov. 26 and runs until Christmas, to more markets as it grows.