How Rogers sells the Bills in Toronto
The exec director of the only NFL game in Canada on how its sponsorship packages have changed since the inception of the series.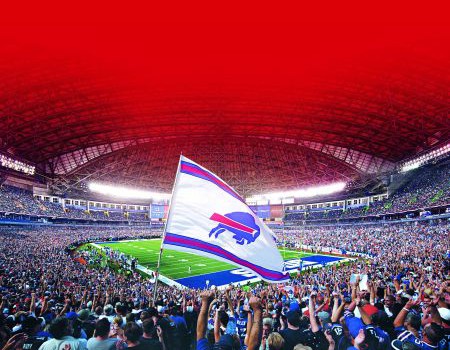 Rogers Media is bringing a slice of Buffalo to Toronto this December, hosting the fifth Buffalo Bills game to be held in Canada. The game, which takes place Sunday, Dec. 16 at 4 p.m. at the Rogers Centre, sees the Bills taking on the Seattle Seahawks.
Greg Albrecht, executive director of Bills in Toronto, Rogers Media, tells MiC the company has evolved the way it sells sponsorship around the "Bills in Toronto" series, from opportunities available exclusively in-game to a multi-platform level across the Rogers Media properties.
Bud Light is back as a sponsor of the game this year, working with Mosaic on the pre-game components on Front Street, says Steve Sadoff, marketing manager, Bud Light.
"We are blowing up our activation a little bit more this year," he says. "We have moved it over from the Bremner side to Front Street to get more foot traffic and are also leveraging our partnership with the NFL to create some branded gear and get our fans to interact. Football and the NFL in particular index very highly with our target, which are generally males through the legal drinking age to their 20s, this is a fantastic fit for us."
Hyundai is the title sponsor of the game's halftime show, which features YouTube sensation Psy performing. Albrecht says the halftime show, which isn't typically a feature of regular season NFL games, takes the entertainment level up a notch for casual fans who might be on the fence about attending.
Samsung Canada is the laptop and TV sponsor of the game, and while Albrecht says the brand isn't doing any big in-game activations as of yet, they have taken the sponsorship multi-platform, with ads running on Sportsnet, Sportsnet Radio and during the game day broadcast on Citytv.
"The deal with Samsung Canada is an excellent example of how we are going to be moving forward in years to come in terms of sponsorship," he says. "Making multi-platform deals, which involve activations at the event as well as in-home advertising buy options."
Also on board are the Korean Tourism Association, Toronto Tourism and MBNA.