Viagra drops its prices
Pfizer has launched a multi-platform campaign to promote its product following the Supreme Court dropping the patent on the little blue pill.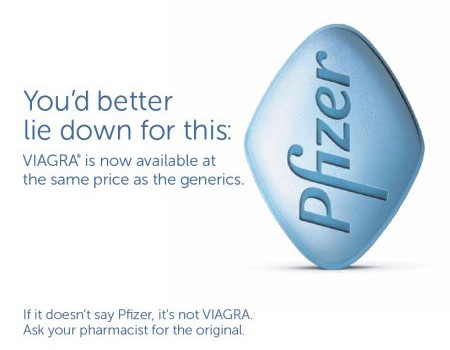 The Supreme Court of Canada recently declared the patent on Pfizer's erectile dysfunction drug invalid, opening the market to generic competitors.
In response, the pharmaceutical company has dropped its prices (to $37 from $49 for four 100 mg pills) and launched a print, digital and radio campaign with media by MediaCom, creative from Taxi and digital by Twist Image to promote the change.
"It was about getting to the market first with the message to consumers and making sure we were in strong, topical, newsworthy media outlets," Jill Appelbaum, SVP, MediaCom Canada, tells MiC of the strategy behind the campaign.
The campaign aims to reach Viagra's core demo of men aged 40 and over, with print ads running in national papers like the Globe and Mail and National Post. Digital ads will be placed on the sites for the papers, as well as MSN, Canoe.ca and Facebook. And 10-second radio spots are running before and after news and traffic hits on the CTM network of stations.
Copy in the ads follows Viagra's traditional tongue-in-cheek style, with print ads saying things like "A price you may lose sleep over." or "You'd better lay down for this."
An online video was also created for the campaign by Strategic Objectives and Pfizer, placed on its Facebook page, which asks "how do 6,500 Viagra pills say good morning?" with the pills forming a happy face.
The campaign runs until Dec. 16.