Spotted! Telus brings fans into the action
How Telus built a "Fan Cup" with the help of a penny press and fans, and the strategy behind taking the Grey Cup Festival to the streets.
Telus activated its sponsorship at the 100th Grey Cup last week by wrapping up a project it has been tackling since September. The telco has been touring Canada with a penny press and asking fans to use the machine to help build a trophy called the "Fan Cup."
To participate, fans put a penny into the press and a piece of each commemorative coin was cut out and melted down to be added to the "Fan Cup." The names of each person who makes a penny will be engraved into the cup, which will be officially entered into the CFL Hall of Fame in Hamilton in January, Dan Sorotschynski, director of marketing communications, Telus, tells MiC. In total, more than 14,000 people participated in the making of the cup.
Fans were also brought into the process of presenting the cup at last night's game. The telco launched an app called "Capture the Cup," which allowed fans celebrating Grey Cup weekend in downtown Toronto to virtually pass the trophy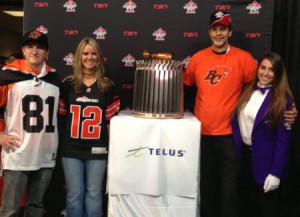 and grab it from others who have the app through GPS tracking. The last person "holding" the cup is the one who got to present it at last night's game, says Sorotschynski.
Telus also sponsored the Telus Street Festival, which featured bands, giant rib trucks and other family-friendly activations ahead of last night's game. The telco worked with GMR on its sponsorship activation.
Other major sponsors of the Grey Cup Festival were Scotiabank, Molson and Nissan, with 46 corporate sponsors overall, David Bedford, SVP, Toronto Argonauts Football Club, tells MiC.
Activations were purposefully spread out around the downtown core to expand the excitement of the festival past the area immediately around the Rogers Centre where the championship game was played.
"The last time the Grey Cup was in Toronto in 2007 all of the activations were in the Metro Toronto Convention Centre so the city itself wasn't energized," says Bedford. "This time we met with the Entertainment District BIA early on and they wanted to energize the city. We wanted to put the CFL and Toronto Argos brands out there in a positive light."
Photo (left to right): Nick Dyer, winner of the Telus Capture the Cup Contest, Andrea Goertz, senior VP of strategic initiatives, Telus, The Fan Cup presented by Telus and Rick Lyall, Telus team member and Telus brand ambassador.