PHD gets gamified
The agency has launched Source, a new operating system that uses game mechanics to get daily tasks done.
PHD has announced the launch of Source, a new global operating system that uses game mechanics with the goal of encouraging high levels of collaboration between agency members.
The cloud-based system has been in development for close to two years and will be rolled out to the entire global team of the Omnicom Media Group agency by the start of 2013. Source, which replaces the agency's current planning system called Etna, functions as a strategy framework and live-collaboration engine, which allows everyone within PHD to work together in real-time. Called a "massively multiplayer online game," the thousands of people within PHD will be able to see how they are performing on a real-time global leader board.
With the new system, PHD staffers can earn points on the leader board (which is on everyone's home screen) by working on their own plans, and also pinging ideas in plans for any other office in the world, Mark Holden, worldwide strategy and planning director, PHD, tells MiC.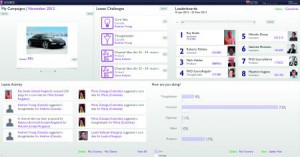 By adding the ability to contribute to plans worldwide, Holden says the new operating system allows staff to use any creativity they might not be channelling into their own current projects and better the global agency at the same time.
"To play the game you have to create great plans," he says. "The better the plans are the more pings you get. The most important mechanic of gamification is intrinsic motivation, a real sense of purpose of being witnessed and celebrated for your success."
In addition to intrinsic motivation, the agency will also be providing some extrinsic rewards, with the person at the top of the global leader board at the end of the year being gifted with what Holden calls an "unbelievable prize." In addition to the global prize, national offices will be handing out rewards to top game players in their countries.