Boom 97.3 celebrates end of the world
The Toronto radio station's latest promotion plays on the apocalyptic predictions of the Mayans and offers listeners daily trips to Mexico.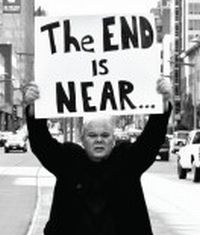 Boom 97.3 has partnered with Signature Vacations to help its listeners ring in the end of the world in style.
The Toronto-based radio station, which is owned by Astral, launched a promotion this week that plays on the Mayans' apocalyptic predictions for Dec. 21.
The campaign, created entirely in-house, features OOH posters with a link to the mysterious website 122112.ca and Boom 97.3 host KJ holding a sign that says, "The end is near." The link redirects to the promotion's web page.
Targeting men and women over 18, the campaign also makes use of street teams, which will hand out postcards and buttons at events around the city.
The promotions are all designed to lead consumers back to the radio station, where all-inclusive trips for two to Riviera Maya, Mexico are being given away daily at 5 p.m.
Jennifer Collins, assistant promotions director, Astral Radio, tells MiC that this promotion is different for the radio station because the creative doesn't specifically advertise the Boom 97.3 brand.
She adds that it's designed to remind people of the "crazy guy on the street corner" and to get people to respond to the joke, which is likely to be one of the most talked about news stories in the month of December.
The promotion ends Dec. 7.