Advertisers must make jump to digital video
At the nextMedia conference, Carat and Aegis Media VP Katie Atkinson told the audience that premium content can exist outside of traditional broadcast.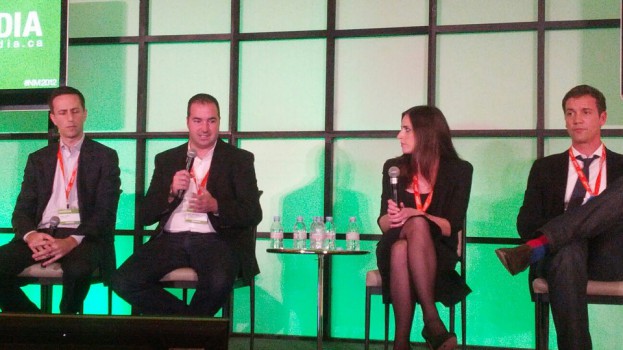 As consumers become increasingly mobile, the demand for premium video content anytime, anywhere on any device will only continue to grow. In response, publishers must learn to fill this demand, while finding ways to attract the attention of advertisers, particularly in the burgeoning digital space.
That was the consensus reached by a panel of industry experts from both the publishing and advertising sides, who tackled the vexing issue during a nextMedia panel yesterday.
According to Katie Atkinson, VP communications planning, Carat and head of digital trading, Aegis Media, the first step to monetizing the digital space needs to be education.
"The onus is on publishers to teach advertisers that premium content can exist outside traditional broadcast channels," she said.
Jeff Thibodeau, SVP digital media investment, MediaCom, added that advertisers must also change their mindsets, and understand that premium content doesn't always have to be long-form.
He added advertisers will have to use the digital space to target audiences in new ways – not across demographics, but based on consumers' web browsing habits. This will mean adopting a new media buying model, both digitally and eventually in broadcast, whereby advertisers use data and analytics to purchase impressions one at a time instead of buying blocks of ad space at TV or digital upfronts.
Thibodeau suggested that the result for advertisers is less wasted ad buys, while the perk for broadcasters and publishers is that advertisers will be willing to pay more for the ad space they do buy.
Yet while both publishers and advertisers must open their minds to the idea of short-form video as premium content, Jason Tafler, chief digital officer, Rogers Media, pointed out that long-form content isn't going anywhere, as is evidenced by broadcasters shifting their programming across as many platforms as possible.
Atkinson agreed, noting that the shift away from broadcast could make long-form content hard to finance digitally unless publishers can convince advertisers to get on board and make deeper investments than web banners.
But Graham Moysey, general manager, AOL Canada, argued YouTube's branded channels, such as the gamer-targeted channel Machinima are proof that advertisers are already willing to invest in short-form digital content. Machinima, he said, reaches two million streams per month, has seen significant investments from Google, attracted the attention of the Xbox brand and distributed the 10-part series Battlestar Galactica: Blood & Chrome, which is slated to air on Syfy in February.
Photo (left to right): Jason Tafler, Jeff Thibodeau, Katie Atkinson, Graham Moysey
Photo by Jordan Twiss