The Windsor Star redesigns online
The Postmedia site is the first of the brand's dailies to roll out a new responsive design format.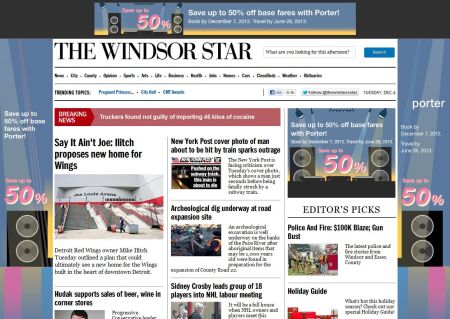 Postmedia's Windsor Star newspaper has rolled out a new responsive web design for its site, which much like the new look on Rogers Media's Chatelaine and Flare sites, allows users to have an optimal viewing experience regardless of the platform they are viewing the page on. This is because the site automatically resizes the layout to fit a variety of devices, from desktops to tablets and smartphones.
Launching responsive design on the site for the Windsor Star is seen as a pilot project for Postmedia, which plans to roll the new design out onto the rest of its sites in 2013.
Don McArthur, assistant managing editor, digital, Windsor Star, tells MiC the site is now designed in a way that avoids "banner blindness," that is, people glossing over ads because they are always in the same place so they know where not to look to avoid them.
In addition, Bev Becker, director of digital products and marketing, Windsor Star, says ads on non-desktop devices like tablets appear larger with the new design because the sites are no longer shrinking to fit the device. The new site also includes a right-hand rail impulse ad unit on each page that will appear when an ad is booked, but be hidden when it isn't.
The Windsor Star's new site can also now target ads based on geo-location and uses all the IAB Rising Star ad units, adds Becker.