Dragons' Den, Ford reveal game changer
Gaye McDonald, director of marketing, CBC Revenue Group, talks to MiC about the lessons learned during the brand integration.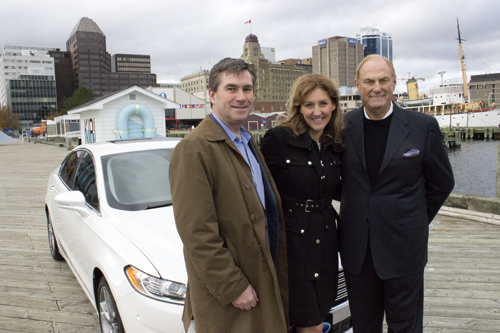 Ford Canada's sponsorship of Dragons' Den on CBC came to its climax last night at 8 p.m., with the crowning of Barb Steggeman as the Ford Fusion: Game Changer contest winner.
Gaye McDonald, director of marketing, CBC Revenue Group, tells MiC that despite the initial difficulties of figuring out how to integrate a car into the show, the Fusion was a good fit because its primary target is "young entrepreneurs."
While the most important step was getting the Dragons to spearhead the integration, she says that collaboration between the brands was the key to the sponsorship's success.
"We had the Dragons' Den production and programming group at the table with Ford's agencies [Mindshare and Y&R] and the internal client marketing group for CBC creating the campaign. The whole [integration] was set up to parallel Ford's 'Pay-it-forward' campaign for the 2013 Ford Fusion," she says.
Calling the integration "almost easy," she adds that the takeaway for CBC was that it should have offered even more content to viewers in the online space.
"We had really strong engagement digitally. We know people were migrating over and watching [the online content], then participating in judging. So if we could do anything else it would be [to create] more content for this," she explains.
The Ford Fusion: Game Changer contest launched in September with the premiere of the seventh season of Dragons' Den. It saw Dragons Jim Treliving, Bruce Croxon and David Chilton revisit pitchers of old whose ideas or projects fit with the message of Ford's "Pay-it-forward" campaign.
Meanwhile, Ford promoted its Fusion through "Ford Fusion: Game Changer" segments, both online and during the show. While broadcast slots featured 30-second profiles of the selected pitchers, there was also a deeper dive to longer online segments.
Den Heads, the show's loyal fans, were also asked to weigh in on the contest by "thinking like a Dragon" and guessing who the Dragons would pick to win.
Steggeman was awarded a Ford Fusion, while a fan who correctly picked the winner also got a two-year lease on a Fusion.
Photo left to right: Jim Hartford, director, marketing communications, Ford of Canada, Barb Steggeman and Jim Treliving