Kraft Dinner wants to be your last meal
The Kraft brand is capping off a year of increased digital engagement with an OOH and social campaign spoofing the end of the Mayan calendar.
Kraft Dinner is capping off 2012 by launching an OOH and social campaign spoofing the end of the Mayan calendar (Dec. 21). The spots, with media by MediaVest and creative from Taxi 2, appear on wild postings in Toronto and Vancouver and through sponsored content on Facebook and Twitter.
Ads in the campaign feature copy like "If it's your last meal on earth, do you really want it to be Brussels sprouts?" and "Alien probes, killer zombies, giant asteroids. Do you really want to face all of that on an empty stomach?", with a call to action asking consumers to tweet "I want my last meal to be KD" with the hashtag #KDpocalypse, Mieka Burns, associate brand manager, Kraft Dinner, tells MiC.
Kraft Canada will find the tagged tweets and send them a link where they can forward their information and be sent a box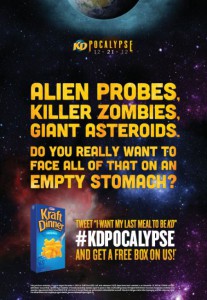 of Kraft Dinner.
"We are keeping the campaign confined to OOH and social media because we want to keep it very street level," says Burns. "We thought those channels would help reach people in their daily routines."
She adds the campaign is not honed in on any one segment of consumers, but notes the Kraft Dinner online fans generally skew younger.
"We want to reach the people who are in love with the brand, people who can be entertained by this type of brand tone and the people who would be talking about us anyways."
The campaign launched on Dec. 4 and will run until Dec. 21.
Burns says the campaign caps off a year where the brand has turned its social channels  into vehicles for getting entertaining content to loyal online fans, taking the platforms up a notch from the one-way conversations they used to house.
"There is a lot of love in the marketplace for Kraft Dinner, and we have a unique personality, which we can really play to," she says. "Particularly our consumers who have what we call a 'forever 19′ mindset, so that produces a lot of inspiration for content, to inject fun into their daily conversation. In 2012 we focused on creating valuable content, not necessarily coupons but more along the lines of entertainment so if they are cheering and being interactive with us on a daily basis they are getting value from us."