Jolly St. MiC: Target Holiday Road Trip hits Toronto
The retailer's latest experiential campaign will be offering Torontonians Starbucks gift cards, Target swag, a downtown shuttle service and holiday tunes.
The holiday season is in full swing, and MiC is launching a pun-derful series wrapping up the campaigns, parties and agency videos on offer over the next few weeks. Up to something festive? Send a  note to vmaloney@brunico.com.
Target's latest experiential campaign, the Target Holiday Road Trip, rolled into Toronto Thursday bringing the spirit of the holidays with it.
Toronto activations for the campaign that began on the East Coast included a partnership with The Tenors, which saw the singers mingle with fans at Yonge-Dundas Square and serenade them with Christmas tunes.
Meanwhile, from 7 a.m. to 7 p.m., the retailer had 30 branded Target vehicles offering a complimentary shuttle service to pedestrians in the city's downtown core.
Leveraging its long-standing partnership with Starbucks it also surprised customers at several of its locations with $5 gift cards. It also made use of street teams, which handed out Target swag, including scarves, water bottles, toques and totes.
Th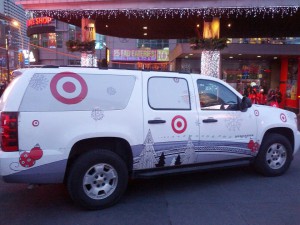 e Holiday Road Trip began its cross-Canada tour in Halifax in November, with an event at the Dalhousie University Club, where celebrities Gordon Pinsett, Shaun Majumder and local children's favourite Razzmatazz for Kids told Christmas stories.
Lisa Gibson, public relations, Target Canada, tells MiC that the tour aims to introduce Canadians to the Target brand, while giving the brand useful business intel ahead of its 2013 launch.
"Experiential activations with a strong social component enable us to meet and interact with people one-on-one so we can hear their feedback and expectations of us as we enter Canada, and find out what's really important to them," she says.
The tour will end in British Columbia in mid-December. Canadians can track its progress and check out schedules and a photo scrapbook of past stops on the brand's Facebook and Twitter pages.
The tour will roll into North Bay today ahead of a stop in Sudbury on Saturday.