The current TV model is dying: Holtzman
Henry Holtzman from the MIT Media Lab says the future of TV is not with the channel-based model and outlines several projects where the platform might go next.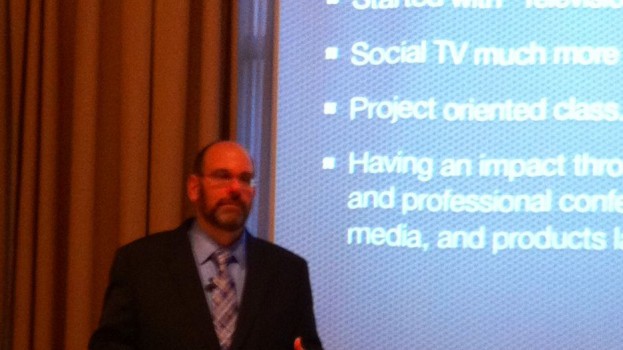 TV channels as we know them are dead – get used to it. That was the word from Henry Holtzman, chief knowledge officer at the MIT Media Lab, when he addressed an industry crowd late last week.
Holtzman was in Toronto to talk in the first of what host agency DentsuBos says will be a biannual series in partnership with the MIT Media Lab.
He says the channel-based TV experience will likely be viable for another five years, but probably not another 10, noting when the platform does disappear it will be fast and planners who base their buys on things like booking spots after a hit show need to find other ways of getting noticed sooner rather than later.
Of course Holtzman wasn't all doom and gloom, he said while the TV industry as it stands right now likely won't survive in the same form, people will always need entertainment and diversion so pieces of it will live on in other ways.
When talking about how to evolve the current TV model, Holtzman said to think about the things people like about the platform now: that it works instantly, brings people together through a shared experience, adds an element of structure through episodic storylines and is not a demanding form of entertainment (you can "lean back" and watch).
He added that the idea of broadcast TV seems outdated, but there is still magic in the community that local TV creates. So the players that win in the new environment he suggests will be ones that can create a community feel while also operating on the scale of the global economy through the internet.
"The degree to which you try and get people to watch live TV is the degree to which you are opening yourself up to disruption," said Holtzman.
As part of his work at the MIT Media Lab, Holtzman teaches a class for students called Social TV (not based on the hardware models now on the market, but on bringing social elements into TV programming). He showcased a few examples from his students to illustrate places where the platform could go:
-Field Trip TV: This idea, by Robert Hemsley, Aadithya Chandramallegowda, and Santiago Alfaro, brings real life and TV together by linking shows with Facebook friends and suggesting activities such as a trip to a local aquarium for friends who are known to watch programs about sharks on the Discovery Network through a pop-up on the screen.
-Takeover TV: Built for TVs in public spaces by Greg Elliott and David Carr, this classroom idea puts sensors on four corners of a table in front of a public TV and gives instructions on the screen for viewers to knock on a certain corner for the program or clip of their choice. Holtzman noted a monetization opportunity for this idea, saying advertisers could link exclusive clips or coupons to one program over others to entice people to watch. This program could also be used to collect data on what programs people prefer in which areas of town.
-Super Pac App: Created by Jennifer Hollett and Dan Siegel in the social TV class, the iOS app works like Shazam for television, listening to commercials for the candidates of the recent US presidential election when the viewer's phone was held up to the TV and listing facts behind the spot. During the election the app got 30,000 downloads, with 120,000 videos viewed.