Spotted! The Globe and Mail spreads the word on DNA
The media co is promoting a new series on genome sequencing with street teams, online spots and OOH ads.
Street teams from the Globe and Mail got in front of Canadians yesterday during their daily commutes in Toronto and Vancouver to promote the genome sequencing (sharing your own DNA) editorial series called Exposed: The DNA Dilemma that launched in print and online this weekend.
The street teams, by Free for All Marketing, were handing out postcards and pieces of licorice (to imitate DNA strands) and pointing commuters to the website for the series, which is running as part of the media co's Our Time to Lead section.
In addition to experiential elements, which are running again in the two cities later this week, the series is being promoted by OOH digital billboards along Toronto's Gardiner Express Way, transit ads in Toronto and Vancouver and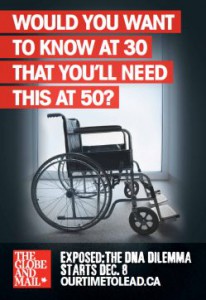 digital and print ads across the Globe's assets. Creative for the campaign, which runs for two weeks, is by Naked Creative and media is from Gaggi Media. The ads aim to pique interest in the series by having a photo of a wheelchair with the copy "would you want to know at 30 that you will need this at 50?"
"People don't necessarily know what genetic sequencing means, the street teams help to explain it and the ads are provocative and make people think 'what if?'," Lindsey Lowy, marketing manager, news and features, the Globe and Mail, tells MiC. "I think when you start to talk about the impact of genetic sequencing and what it means to them, then they start to be interested in the actual topic."
The series runs in print until the 22nd and lives online indefinitely, says Lowy.