Jolly St. MiC: Audi makes it snow
The car co is promoting its Quattro technology with an interactive snow globe in Toronto.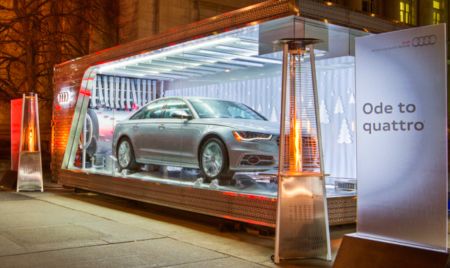 Audi is taking the promotion of its Quattro all-wheel drive technology to the streets with a life-size (car-filled) interactive snow globe outside of the Gardiner Museum in Toronto.
With media from MediaCom and creative from Zulu Alpha Kilo, the snow globe consists of a giant box with an Audi S6 inside, which operates like a gigantic old-fashioned music box, with the back wheels of the car turning the barrel that makes the song play and the front wheels operating a moving holiday-themed background, Shane Ogilvie, creative director, Zulu Alpha Kilo, tells MiC.
Bringing passersby into the mix, a street team will be standing with the car from 12 p.m. to 7 p.m. every day until Dec. 24 with iPads, which when shaken like a snow globe make snow fall inside the box. The interactive technology in the campaign is by Thinking Box, which also worked with the brand earlier this year on a mini slot car execution in Toronto.
"Experiential elements are incredibly important pieces of the media plan," says Mike Sutton, managing director, Zulu Alpha Kilo. "The snow globe itself is a social object and we can already see it trending on Twitter a bit, and can see people sharing photos and shooting their own videos so people who aren't actually down at the site can experience it as well."
Ogilvie adds the interactive display allows the brand to differentiate by creating a human connection with its target audience of urban and suburban males aged 35 to 54, encouraging them to share the experience with those not able to make it down to the live site through the hashtag #odetoquattro on Twitter.
"It takes the hard sell of moving metal and brings it down to a playful, emotional level, coming away with a happy feeling."