TC Media promotes two
Lynn Chambers is VP of custom content, and Caroline Andrews is the new VP and group publisher of consumer solutions, following an internal reshuffling.
TC Media has announced two senior internal promotions, both effective immediately.
Lynn Chambers (right) has been named VP, custom content and general manager of Totem Brand Stories and Caroline Andrews (below) has been appointed to the position of VP and group publisher, consumer solutions in Toronto and Vancouver.
Chambers has been with TC Media since 2006, most recently working as VP and group publisher of Canadian Living, Fresh Juice and Elle Canada. In her new role she will be responsible for optimizing TC Media's custom content through Totem Brand Stories and developing its presence in the field of owned media.
Andrews will keep her existing portfolio of brands (Style at Home, Canadian Gardening, Western Living, Vancouver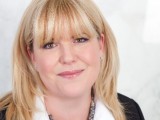 Magazine, The Hockey News and TV Guide) as well as taking over as publisher of Canadian Living and Elle Canada. She has been with TC Media since 1997, working with a variety of newspaper titles before moving to the magazine side in 2007, according to a release from the media co.