Jolly St. MiC: Lego builds for the holidays
The brand's "A Chimney for Santa" campaign features mega columns in Montreal with Lego-like chimneys.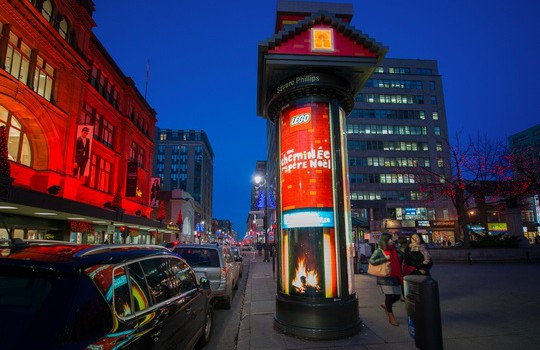 Lego Canada Inc. is making chimneys for Santa this holiday season, with a campaign that aims to build the brand in Quebec.
With creative by Brad and media by Starcom, the campaign started by mailing Lego's holiday catalogue to 40,000 homes. It features digital buys on CBC/Radio-Canada and Canal Vie, print ads in Enfant, and OOH in Montreal and Quebec.
An online video depicts a family building a chimney out of its Lego house after realizing they have no chimney for Santa to come down, and an online game allows kids to build their own chimney.
Meanwhile, the Montreal OOH, designed with the Astral Out-of-Home team, uses the network's mega columns to show chimneys that look like they're made out of Lego bricks.
"Anything viral or online is amazing, but sometimes to get that critical mass to know about it and see it, using a media like OOH amplifies it," Eric Menzies, director of sales, street furniture advertising, tells MiC.
While the "Une cheminée pour le père Noël (a chimney for Santa)" campaign is family-oriented, Sam Kashani, assistant marketing manager, Lego Canada Inc., says that its primary target is mothers aged 25 to 45.
"Moms are online and becoming overly digital. So the digital campaign was really targeted," he says.
He adds that the campaign is a departure for Lego, because it focuses on promoting the brand as a whole, as opposed to just a single product line.
The campaign will be in market until Dec. 25.