Spotted! Salvation Army targets students
The charity fills a vending machine with half-eaten, decaying food to show the lack of nutritional choices some face daily.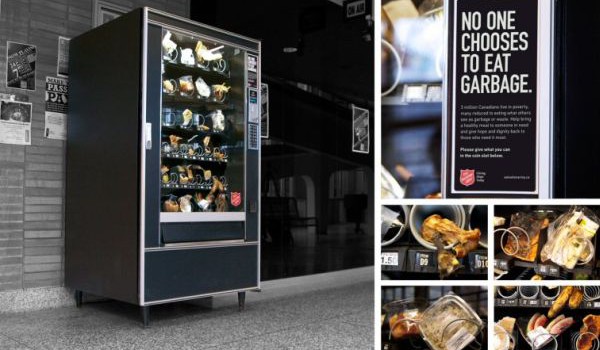 The Salvation Army is targeting students with a new experiential element to its "Simple Dreams" campaign, filling a vending machine with moldy food, rotten fruit and half-eaten snacks to show the lack of choice some have when it comes to nutrition.
With media by MediaCom and creative from Grey Canada, the vending machine, located at Toronto's Centre for Creative Communications campus at Centennial College, is geared towards a younger audience than the charity usually targets.
"The idea for the vending machine came out of the concept of dignity and that homeless people don't have an option for a lot of things, and one of those is the food they eat," Patrick Scissons, chief creative officer, Grey, tells MiC. "We wanted to put the message in a context that youth can relate to, and literally get in front of their face. The juxtaposition of them seeing a vending machine that is normally filled with chips and drinks being filled with garbage provides a visual disruption."
Students can donate to the Salvation Army through the vending machine, with the loonies or toonies they usually deposit  for snacks instead going to charity. Scissons says the project will eventually expand to more schools.