Jolly St. MiC: GTAA spreads the holiday cheer
The transit authority has expanded its Twitter-based caroling to include international flights arriving and departing from Toronto's Pearson International Airport.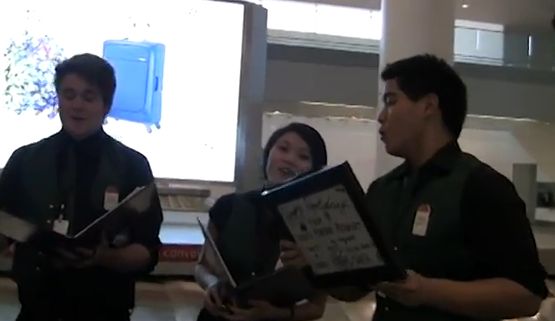 The Greater Toronto Airports Authority (GTAA) is bringing some holiday cheer to the arrival and departure gates at Toronto's Pearson International Airport for the second year in a row, with its "Tweet a Carol" campaign.
Launched with help from Juniper Park, people can surprise passengers who are arriving and departing from the airport by tweeting "Happy holidays @torontopearson" with the first name, last initial, flight number and date of travel of the traveller. If people want to get more specific, there is a list of 10 holiday songs to choose from at TorontonPearson.com/TweetaCarol.
The program, which has eight teams of three carolers serenading travellers between 3 p.m. and 8 p.m. and from 6 a.m. to 11 a.m. until Dec. 23, has expanded beyond Canadian flights (which it targeted last year) to include all arrivals and departures from the airport, Trish Krale, senior media advisor, Greater Toronto Airports Authority, tells MiC.
"The goal is to surprise and delight passengers. We want to put smiles on people's faces and give them something they wouldn't typically see at an airport setting," she says. "We are in the business of moving people to and from, but it doesn't need to be a clinical-type business. We want their holiday to begin at the airport."