The end of the world as we know it: MiC's Global Tour
UM's Shelley Smit and Jungle Media's Brooke Leland weigh in on the ways that brands such as Jell-O and Lynx have used the impending apocalypse to reach consumers.
The apocalypse, as predicted by the Mayans (or so some believe) is near, but that hasn't stopped brands from having fun, or using the possible end of civilization as a gimmick to sell products. Some brands have touted their food as being tasty enough to satisfy the Mayan gods, while others have argued that their offerings are durable enough to last through the apocalypse.
Here's what Shelley Smit, president, UM, and Brooke Leland, connection planning director, Jungle Media, had to say about the use of the apocalypse as marketing fodder.
US: Jell-O celebrates the funpocalypse.
Jell-O jumped on the apocalypse bandwagon with a campaign that paints the snack as a food that's delicious enough to appease the Mayan gods. Created by CP+B, the campaign features TV spots and a Twitter contest that urges Jell-O fans to share their apocalypse bucket lists with the hashtag "#funpocalypse." The brand will then reward twelve tweeters daily through Dec. 20 with $100 to accomplish their pre-doomsday goals.
Smit: Nothing says fun like an apocalypse. Unfortunately the story seemed to be just starting when it ended. The brand pay off took a while to emerge – and only as a teaser at the end. The spot I watched didn't seem to reference the Twitter contest which would have at least allowed the story to continue and evolve through fans – which is a terrific idea.
Leland: Only vibrant, life affirming Jell-O would inject an element of fun into our world when we're all facing imminent death! At first thought it was a bit of a stretch but then I realized that their insight, that we'd all party pretty hard if our time was indeed up, was a good one.
TV spots and themed program sponsorships are lovely but it's the Twitter contest and street teams handing out cards and preaching "the end isn't near, the fun is" that really make me want to turn my back on doom and gloom and start living fun. Even coining the term "Funpocalypse" is a delight! I had flashbacks to Lollapalooza in the 90s.
Jell-O laughs in the face of angry gods, and my only fear is that their mockery may piss them off even more.
UK/Australia: Lynx launches an apocalypse-themed product line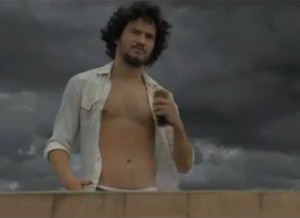 Lynx, the UK and Aussie brand of men's grooming products, is getting biblical with its apocalyptic imagery, with the campaign for its specially-launched line, Lynx 2012: The Final Edition. The TV spot, created by Unilever UK, features a man building an ark similar to Noah's. After he's done, he sprays himself with bodyspray, enticing pairs of beautiful women to come aboard.
Smit: I really enjoyed this spot. It was visually appealing on many levels (wink, wink) and made a direct connection between the timely story and the role of the brand. Although it was the shortest of the spots at 30 seconds – it conveyed all it needed to in a compact, compelling content piece. My only wish is that this story would have had a sharable or evolutionary component to it so it didn't just end (I guess – like the world).
Leland: Full disclosure, I love Lynx and Axe ads. They're comfortable in their own skin, unapologetic and bang on target. I can see Benny Hill lathering up with their products. The apocalypse is the perfect link for Lynx. What young man doesn't dream of being the last man on earth surrounded by a boatload of beautiful women. I'm sure the first few weeks at sea would be paradise, but gradually it would turn into a raucous episode of The Bachelor and the toilets would back up.
Kudos to Lynx for actually launching a line around the apocalypse and not just tagging it to an existing product. They really thought this through. They seeded the spot online eventually airing it on TV in November. I would have loved to see them do more with this in terms of media touchpoints: cinema, malls, videogames, wrapping those ugly amphibious tourist hippo buses, DIY Ark building kits in hardware and convenience stores, a Speedo partnership….you know.
US: Chevy Silverado outlasts the end of the world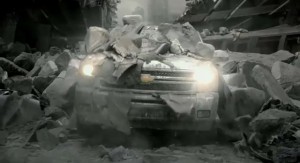 Chevy's apocalypse-themed ad flirted with controversy when it aired during this year's Super Bowl. The TV spot features a guy and his dog driving through a desolate wasteland in a Silverado. When he meets his friends, he wonders where their friend Doug is, until he's told that Doug didn't make it because he drives a Ford. Needless to say, Chevy's rival did its best to have the ad pulled. (Watch for a cameo from the infamously everlasting Twinkie.)
Smit: This content is big – apocalyptic big. Huge production, massive set, interesting effects and notable music (can't beat Barry Manilow for a truck ad). Like most Canadians, I'm not a fan of negative comparison advertising. I think they could have accomplished the same message through more subtle cues like abandoned trucks without calling Ford out verbally. My favorite part of the spot – the Twinkies. Now that is timely.
Leland: They nailed their claim that Silverado is the most dependable, longest-lasting full size pick-up on the road. There's a great dog in the ad. Eight million views on YouTube. Ford asked that they pull the spot. It's perfect.