Molson goes on a "Guyet"
The beer brand has launched a new humour-focused TV, print and OOH campaign which targets those resolving to take their health up a notch.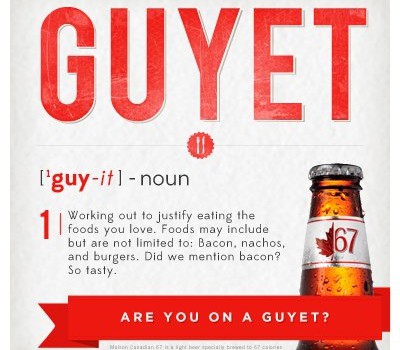 Molson Coors Canada has launched a new campaign aimed at telling consumers that they can have their favourite beer and be healthy too.
The campaign, targeted at adults aged 25 to 49, promotes what the beer brand calls the "Guyet" – a diet that includes exercise, its Molson 67 line (which only contains 67 calories), and beers and bacon cheeseburgers.
With creative from Rethink and media by MEC Canada, the campaign features TV ads on specialty channels such as TSN, print spots in local papers in Toronto, Montreal, Vancouver and Calgary, and nationally in the Globe and Mail, and OOH in the same local markets.
Jean-Yves Beaudoin, assistant marketing manager, Molson Coors, tells MiC that the campaign plays off the term "Guyet" and the time of year where people are focused on being healthy through its new humour-focused spots.
"'Guyet' is a way of life.  It's not about indulging in crappy food all the time, it's about exercising properly so you can rationalize eating things you love, like burgers with bacon," he says of the insight behind the campaign.
According to Beaudoin, the brand team is actively planning for further "Guyet"-related initiatives.