Million Dollar Neighbourhood adds an app
The Facebook app turns viewers into older, wiser version of themselves, and provides them with action plans, tips and advice for fiscal health.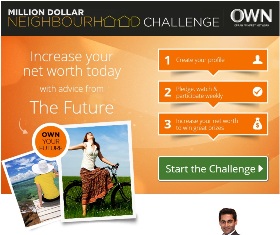 Financial advice from your future self? There's an app for that.
Winnipeg-based Tactica Interactive has launched Million Dollar Neighbourhood Home Challenge, a companion Facebook app to the second season of the series, which premiered Sunday on OWN Canada.
The free app for iOS, Android and desktop devices features face-morphing software that ages viewers' photographs into older, wiser versions of themselves.
The future selves help viewers set attainable financial goals, take part in weekly pledges, and provide action plans, tips and advice for their fiscal health and increasing their net worth.
Each of the weekly pledges is linked to episode themes – for example, cutting back on food and transportation costs and discretionary spending – and gives viewers a chance to win prizes.
The app, which can be downloaded via OWN Canada's Facebook page, also lets viewers connect online with other Million Dollar Neighbourhood viewers across the country.
"We know that making big changes are more easily accomplished when you're not alone, when you're part of a bigger community that provides support for what you're trying to accomplish. This app helps leverage the bigger Facebook community to help everyone achieve their financial goals," said Tactica Interactive founder and president Kevin Glasier in a statement.
The 10-week second season of Million Dollar Neighbourhood focuses on the residents of Bowmanville, ON, as they work to increase their collective net worth by $1 million dollars.
The Million Dollar Neighbourhood Home Challenge app was developed by Tactica Communications and Force Four Entertainment, in partnership with Corus Entertainment, with participation of the Bell Broadcast and New Media Fund.
Advertising and sponsorship opportunities are available on the app, according to a Corus Entertainment representative.
From Playback Daily