Brands get interactive: MiC's Global Tour
PHD Canada's Rob Young and Maxus' Robin Legassicke weigh-in on recent campaigns from brands like Evian and McDonald's, which use experiential promotions to reach their consumers.
The MiC Global Tour is back for the new year, with the first installment showcasing interactive campaigns that feature unique installations, such as playgrounds that make it snow when they're used, digital play spaces in restaurants or user-controlled messages.
Here's what Rob Young, SVP, director of insight and analytics, PHD Canada and Robin Legassicke, group director, Maxus, had to say about these interactive campaigns.
UK: Evian channels the playground
While Evian may forever be best known for its roller babies ads, the bottled water brand is continuing its "Live Young" campaign with an interactive installation in London. Called the Evian Playground, it includes all the jungle gym classics, such a swing set and a seesaw, with one catch. When used, the playground equipment activates an attached snow machine, turning the playground into a winter wonderland. The more people use it, the more it snows.
Young: Snow is generated by the energy created by the swinging and teeter tottering consumers in this Canary Wharf playground brought to you by Evian. Is there a brand association being reinforced? Yes. Evian is building a "Living Young" connection to its brand. Is there a behavioural economic principle at work here? Yes. It's called herding; if they're all doing it, it must be good. And so, all in all, the Evian Playground is a strategically sound idea. Will the earned media coverage result in a payoff? That of course, is always the risk with these kinds of installations.
Legassicke: I find experiential media can be tough. It's about finding balance between a creative interactive concept that fits with the brand strategy, and how that concept delivers a return on what can be a huge investment. I think this concept is bang on strategy and really allows consumers to live the brand experience. What seems to be a little lacking for me is the easy ability to share or make it more social. Ultimately though I think this activation will increase brand sentiment and awareness. It makes me want to travel to the Canary Wharf to play in the snow!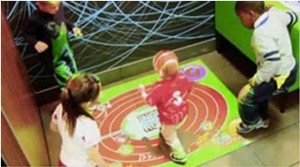 UK: McDonald's installs digital play space
McDonald's has recently been trying to appeal to both kids and parents by offering healthier options in Happy Meals. Continuing on that theme, 150 McDonald's restaurants in the UK recently installed gesture-controlled digital play spaces in their restaurants to encourage kids to be more active. The play spaces include Nintendo Wii-like games that aim to get kids moving and feature the McDonald's cast of characters, including Ronald McDonald and cartoon classics such as Bugs Bunny.
Young: Like the Evian case, new, virtual Play Zones being tested by McDonald's in the UK employ an age-old behavioural economic principle. In this case, the principle is called "misdirection." The real message (buy our calorie-jacked Happy Meal) is camouflaged behind the more socially acceptable message (hey kids, beat Bugs Bunny on the running track). This effective but socially awkward Trojan horse technique gets a 2013 digital update.
Legassicke: McDonald's has taken the challenge of trying to be seen as part of a healthy lifestyle head on. This interactive experience embodies that, and helps to create a brand connection with kids. It's smart to be utilizing owned space and enticing parents and kids into the restaurant to play and giving them reason (beyond the food) to want to come back.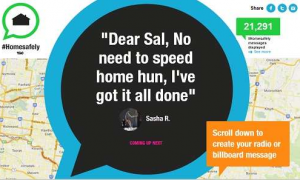 Australia: Traffic Accident Commission gets personal
Australia's Traffic Accident Commission (TAC) put a twist on safe driving campaigns when it launched the "#Homesafely" initiative over the holidays.  TAC opted to put safe driving messages in the hands of everyday people by donating more than 233,000 ad spaces, which could then be used to send personal messages to loved ones via radio or OOH. Operating through a microsite, users could select the stations and billboard locations on which the messages would air as well as the times they would appear.
Young:Over the holiday season, the Australian Traffic Accidents Commission encouraged consumers to direct brief text-like, drive-safe messages to their loved ones via digital Outdoor units. Wasn't anyone in the marketing team worried about the possibility of this newspaper headline: "TAC message distracts driver. Car crash snarls traffic for hours."
Legassicke: I really like the concept behind this one.  Anytime you can personalize the creative message, a better brand connection will be built. This execution is an imaginative way to refresh a positive, but tired message. Also, it changes the way we think about traditional mass media, making it more into a one-to-one, on a mass level. Kudos to TAC for donating the space and coming up with a creative concept for such an important message.