Dempster's fights the bread backlash
The Canada Bread brand is targeting health conscious consumers with a new humour-based campaign featuring comedian Gerry Dee.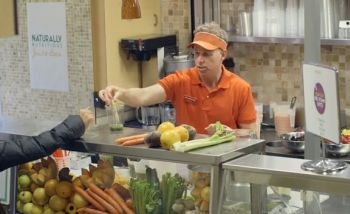 Canada Bread brand Dempster's is using humour to fight back against the low-carb trend of recent years with a new digital campaign targeting health conscious consumers.
With media done internally and creative from Cundari, the digital campaign features video spots from comedian Gerry Dee pranking consumers to remind them about the nutritional value of whole grain bread.
The first video, out now, has Dee acting as a server in a juice bar and asking people if they want their beverage fortified with vitamins, then crushing a piece of bread into the drink. A second video, which comes out later this spring, sees Dee as a camp counsellor at a children's day camp who shocks the kids by swapping their lunchtime grilled cheese sandwiches for eggplant and baloney.
The ads are being places on sites targeting health-conscious consumers, with an emphasis on reaching moms through sites including Allrecipes.ca, Canadianfamily.ca and Thehealthyfoodie.net, Cory Eisentraut, group creative director, Cundari, tells MiC. Videos in the campaign will also run as pre-roll spots on YouTube, with all ads leading to the microsite NaturallyDempsters.ca. The online campaign is running along with TV spots for the brand from JWT, which launched late last year called "Get Nutrition Naturally."
"We wanted to launch a campaign that would get people talking, sharing and get the positive sentiment around bread going again," he says. "We understand that bread is a low engagement category but it doesn't have to be, people love bread but they feel like they can't talk about it."