RDS to produce series with Montreal Canadiens
The broadcaster is working with the NHL team on 24CH, which will offer fans behind-the-scenes coverage of the entire Habs season on mobile, digital and TV.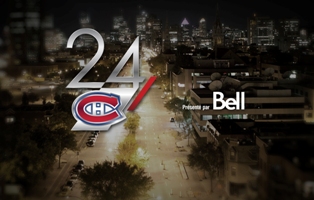 Leveraging its position as the official broadcaster of the Montreal Canadiens, RDS is working with the hockey team to produce 24CH, a multi-platform miniseries that will take fans behind the scenes of every aspect of the Habs' season.
Patrick Jutras, VP, sales and marketing, RDS, tells MiC that the Bell-sponsored series, which targets men and women aged 25 to 54, was seen as an opportunity to bring the Canadiens closer to its fans, both as a team and as a brand, following the lockout.
The series will see two RDS producers embedded with the team throughout the season, and feature practice and game-day footage, as well as take fans inside the Canadiens' locker room.
It includes 24CH Flash, a 30 to 60-second video clip available through the Montreal Canadiens' mobile app on game day for each of the 48 regular season NHL games. While the content will be available to anyone with the app, Bell Mobile customers will be able to access the clip 24 hours in advance.
24CH Weekly will offer fans a deeper content experience, with three- to five-minute video clips that fans can access through the Montreal Canadiens website.
Meanwhile, RDS will broadcast 24CH The Series for TV, which will air in English on TSN2, and is slated to premiere Jan. 26 with an hour-long episode. The premiere will be followed by six 30-minute episodes spread throughout the season.
"The key for us is to reach a wider scope of fans, not only anywhere they are but with the device they have and in the format they want," says Jutras of the strategy behind the multi-platform execution.
To promote the series, RDS's in-house team created and released a 10-second teaser clip Wednesday, ahead of a full campaign that will feature 30-second spots across the channel, as well as external print advertising in La Presse.