Kirstine Stewart on how CBC's premiere week fared
The EVP of English services says the pubcaster is happy with the seasonal start of programming, which included a soft series debuts of Cracked but a record start for former City property Murdoch Mysteries.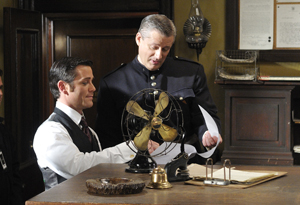 The CBC geared up for its winter season by packing the schedule with returning audience favourites Republic of Doyle, Dragons' Den and Arctic Air.
It also added Murdoch Mysteries, which had aired for five seasons on Citytv, and new gritty cop procedural Cracked.
Earning audience trust and saving the best for this TV season, head of English services Kirstine Stewart had said in November, was important for winter – and seemingly all the more important with the lack of hockey on the schedule.
So how did the week pan out? The pubcaster scored with the Jan. 7 six season premiere of Murdoch Mysteries, netting 1.184 million viewers – a record for the series.
"I think it further shows that we know what our audiences like – that's a big number jump – and we made some creation and promotional changes that helped," says Stewart of bringing the show back to TV on the CBC.
Murdoch retained 969,000 viewers for its second episode this week.
And Dragons' Den in its new timeslot on Sunday night at 8 p.m. hit 1.6 million viewers, which Stewart says shows the strength of the brand and the show.
New series Cracked debuted to lower numbers than some of the returning series respectively – 564,000 – but Stewart, who had earlier said the show had a more niche appeal –  says the show fared as expected.
As to whether the numbers will go up, Stewart says, "We always hope for growth, but we know that this has a specialized audience," noting the audience share is similar to that of Being Erica.
As for the other premieres, Heartland at 7 p.m. almost cracked a million, netting 992,000, and Republic of Doyle at 9 p.m., following Dragons' Den, did 806,000.
George Stroumboulopoulos Tonight Monday at 7 p.m. took 340,000 and Mr. D at 8 p.m. netted 609,000 viewers. On Tuesday, the Rick Mercer Report at 8 p.m. did 947,000, while 22 Minutes at 8:30 p.m. grabbed 808,000. Arctic Air on Wednesday did 842,000.
In the week leading up to the premieres, the CBC launched a series of apps, games and a transmedia series to promote the shows on winter schedule.
Stewart says the digital extensions are a cost-effective solution to promote the shows and create a deeper audience experience in the face of the pubcaster's recent budget cuts.
With hockey back on the schedule starting Jan. 19, she says other than being able to promote a wide Saturday audience, they won't ramp up promoting the winter series.
"Being it was a week that premiered before hockey returned, and overall the Canadian line-up on Sunday night won all the slots, we're happy. It shows we have really diversified our programming," Stewart says.
From Playback Daily