Ford launches a doubleheader campaign
The car maker is using a localized TV and in-arena campaign to promote its contest that gives children's hockey and basketball teams a chance to train like pros.
Ford is kicking off 2013 with a new retail campaign, as well as a sports program that leverages its long-standing partnerships with the NHL's Toronto Maple Leafs and Edmonton Oilers, and the NBA's Toronto Raptors.
The Ford Drills and Skills program, which targets adults aged 25 to 54 who are parents of children on community hockey or basketball teams, offers kid's teams the opportunity to train with the staff of the Maple Leafs, Oilers or Raptors, respectively.
The campaign, with creative by Y&R and media by Mindshare, will run in the GTA and Edmonton, and features TV spots on sports networks, including Leafs TV, as well as posters in local arenas.
The 16-second TV spots are unscripted and feature kids from community teams who are depicted at post-game press conferences answering questions like professional athletes would.
Sharon Brown, associate director, invention, Mindshare, tells MiC that this strategy offers Ford the opportunity to deepen its corporate sponsorship buy with Maple Leaf Sports and Entertainment and the Edmonton Oilers, while the localized creative allows it to reach parents with a direct call to action, encouraging them to sign up their children's teams.
Trevor Schoenfeld, SVP and creative director, Y&R, says the unscripted TV spots are new for Ford and focused on allowing the brand to communicate its message in a more genuine way.
Teams can enter the Drills and Skills contest until Feb. 26. while people can vote for winners up until March 30. All told, 16 teams with the most votes will get to train with the Maple Leafs, while another 16 will train with the Raptors, and 14 teams will train with the Oilers.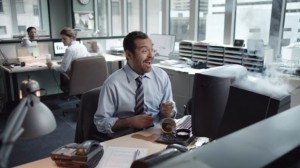 On the retail side, Ford launched a new campaign for its "Be Happy Event," which targets adults 25 to 54. The campaign, with creative from Y&R, social and digital from Sonic Boom and media by Mindshare, features traditional 30-second TV spots across a wide range of specialty and network television, as well as national radio spots, ads in major daily and weekly newspapers, including the Toronto Star, and targeted digital ads across automotive websites.
The TV creative depicts a man who is undeterred from smiling even though he's having the worst day imaginable.
Kirk Glendenning, associate director, Mindshare, says the media strategy allows Ford to be broad-reaching through its TV and radio spots, while being more tactical with its digital advertising, placing ads on sites where consumers are already looking at cars to drive them to the Ford website.
The campaign runs until Feb. 28.