On the MiC: Rory Sutherland talks change in the ad world
The OgilvyOne VP tells MiC about his Ad Week talk saying the marketing industry should look to psychology for the next big thing.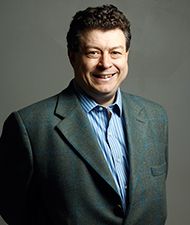 FFWD Advertising Week starts today, with Rory Sutherland, executive creative director and vice-chairman, OgilvyOne London and vice-chairman, Ogilvy & Mather UK, taking the launch day lunchtime slot and talking to the industry crowd about the shifts towards psychological thinking that will bring greater effectiveness to the marketing world.
MiC caught up with Sutherland ahead of his session, entitled "The next revolution will be psychological not technological" to talk about change in the marketing world.
What can we expect from your talk at FFWD Advertising Week?
Sutherland: The boldest assertion I am making is that it is possible to improve the effectiveness of marketing quite significantly just by drawing inspiration from and making reference to some of the new advances in the social sciences.
I would argue that if it's possible to use this better understanding of human nature and decision making, it could mean a 10 to 20% increase in the efficiency of marketing that could potentially be the most significant improvement in business efficiency that we see in the next 30 to 40 years.
What I do think is valuable is if you can understand what people value and will pay for and if you can make the introduction of new products 10% more successful and have the number of failures be 20% less in terms of innovation and marketing then an increase in efficiency of that kind might be a massive help to the whole economy.
One of the things I would say is that we might be mistaken in looking to technology for the next big innovation when we should be looking to psychology.
We automatically assume that the improvements in technology are newer and better things, but if we have a better understanding of people we can create things that they value more, services that create more pleasure for less money.
Why has this shift taken so long to take off?
Sutherland: There is evidence that we aren't making these changes because we are too wedded to the classical economic model of how we should behave. This isn't as damaging as being tied to some other models but it is problematic because it causes people not to experiment with other pricing or marketing approaches that might be worth trying. If you can just create more perceived value for less expense, that is the ultimate goal.