Hyundai Canada debuts Gaspocalypse during Super Bowl
The commercial honours the post-apocalyptic film genre and highlights the fuel efficiency of the Sonata Hybrid.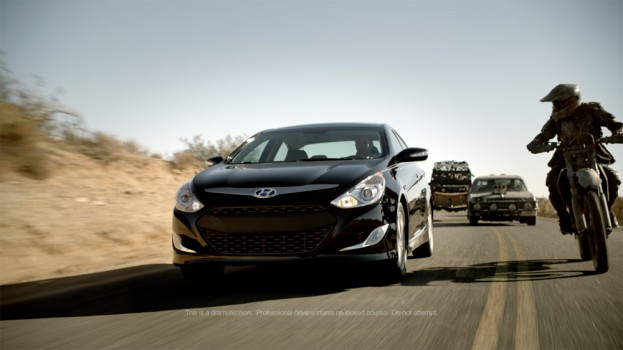 Hyundai Canada is one of a handful of Canadian companies unveiling original creative during the Super Bowl, with a 60-second spot called "Gaspocalypse." The brand describes the commercial as a nod to the post-apocalyptic film genre.
Last year, Hyundai created a Canada-specific Super Bowl ad for the launch of the Hyundai Genesis Coupe. This year's "Gaspocalypse," featuring the Sonata Hybrid, was filmed over two days in the Mojave Desert outside Los Angeles.
"The Super Bowl is more than a football game, it's a social event," John Vernile, VP marketing, Hyundai Canada tells MiC. "We wanted to entertain Canadian viewers by sharing with them a unique, Canadian-produced Super Bowl television spot."
ZenithOptimedia worked on the media buy and Hyundai Canada's AOR Innocean Worldwide Canada did the creative for the spot.
The commercial will air during the halftime show of CTV's broadcast of the NFL championship game. "Gaspocalypse" has already debuted on Hyundai Canada's YouTube Channel and Facebook page.
The wider Canadian campaign for the Sonata Hybrid is supported through a variety of media channels, particularly online, says Vernile. But because the annual championship of American football draws such a large audience in Canada, it is an ideal platform for a one-time campaign such as Gaspocalypse. "The Super Bowl is a perfect showcase for Sonata Hybrid to halo the entire Hyundai brand," he says.
Media reports peg the annual global audience for the Super Bowl at around 110 million people. Last year, BBM reported an average combined French and English audience of about eight million for the game in Canada, making it one of the country's most-watched telecasts.