Spotted! Sport Chek launches retail lab
FGL Sports CMO Duncan Fulton tells MiC about the new store, and the brand's plans to innovate in the mobile space.
Sport Chek has opened the doors on its first digital-focused retail lab located just north of Yonge and Eglinton in Toronto.
The 12,000 square foot store features 140 digital screens, which are built into the walls like tiles and custom built into tables. All screens in the store are touch- and NFC-enabled, so Sport Chek retailers like Adidas, Nike and Oakley can plan interactive executions as pickup of the technology continues on mobile devices in Canada.
Built with Sport Chek's AOR Sid Lee, Duncan Fulton, senior VP of communications and corporate affairs, Canadian Tire Corporation and CMO, FGL Sports, tells MiC the store will act as a testing ground for new technology, introducing new interactive elements every six to eight months. The ones that stick will then be rolled out on a larger scale into Sport Chek's flagship stores, which are slated to start opening across the country later this year.
"The target audience for Sport Chek in general is achievers and this is intended to be an ultimate expression of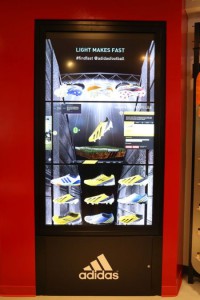 that brand and what they are interested in," Vito Piazza, VP and managing partner, Sid Lee Toronto, tells MiC. "They have a certain relationship with sports and physical activity in terms of what it means for them and how it impacts their lives."
Preliminary advertising for the new lab will be kept to local print ads, says Fulton, with plans for a larger digital and NFC-focused campaign in the spring for the location's hard launch.
Fulton says the lab, which they have been working to build for the past nine months, is the first time he has seen an idea go from the preliminary brainstorm to execution without having to compromise or downscale.
Pushing its digital strategy further, and to continue to find new ways to reach the 80% of Sport Chek's audience who are under the age of 45, Fulton says he plans to upgrade the company's digital and mobile offerings in the near future, noting ideas like a pizza delivery-style truck that could bring new sticks to hockey arenas when consumers put the call out that theirs broke during practice through an app.
"If a pizza delivery company can get their product to customers in under an hour, why can't we do the same?" he says.