McDonald's brings 'Your Questions' to the Super Bowl
The fast food co. will debut the TV spot "One at a time," in the first quarter of the big game.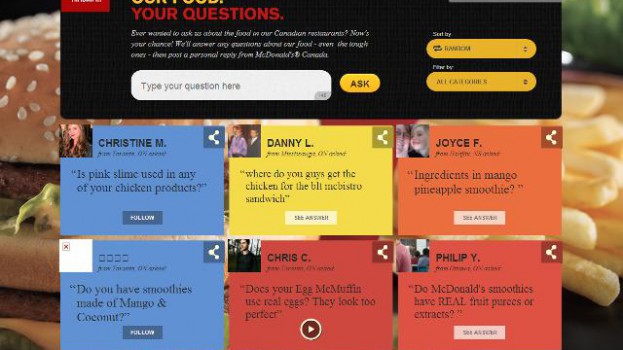 Super Bowl fans can expect to see a new commercial from McDonald's, highlighting its earlier campaign "Our Food. Your Questions."
The campaign, launched in June 2012 with media by OMD and creative by Tribal DDB, invited Canadians to submit questions via a microsite to the fast food company, which has always battled negative public perception around its food. The questions were answered in near-real time, depending on the complexity of research involved, and shared over social media. After its initial eight-week run and follow-up four-week promotion in September, more than 19,000 questions were submitted (only Canadians could submit), with more than 132 million impressions overall.
The new spot, debuting on Sunday, will feature some of the frequently asked questions from the microsite, footage from its 15 videos responses, as well as stating that McDonald's answered all the submitted questions "Openly. Honestly. One at a time." Viewers will be invited back to the microsite to pose more questions or peruse the answers. It will only run during the Super Bowl, and will air during the first quarter of the game, McDonald's CMO Joel Yashinsky tells MiC, but might be used at future "high impact" events, such as the Oscars or the NHL playoffs.
"This is a long-term platform for our brand," he says of the eight-month old program. "[The Super Bowl spot] is a really great chance to show Canadians the great work that's been done to date and learn more about the program as well."
Yashinsky says "One at a time," as the spot is called, will set up the company's creative work for the coming year, which it's working on now.
McDonald's will also rebroadcast its 60-second ad "Around the World," by Cossette, which features people from across the globe speaking the same language of McDonald's. "It's a great brand spot for us," he says of the commercial, which will also be brought out for "high impact" opportunities.