Kal Tire kicks off weather-controlled campaign
The tire dealer is using an out of home execution with creative that changes to promote different types of tires based on driving conditions.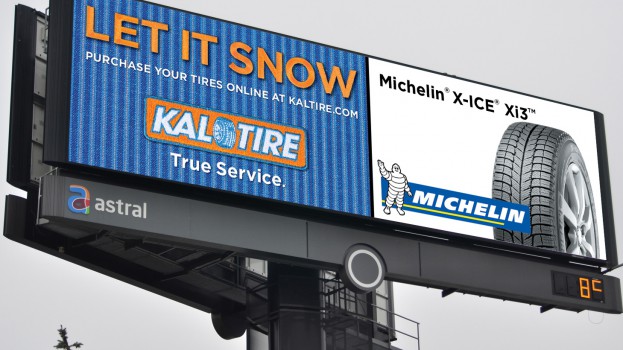 Kal Tire is channelling the power of the weather in its most recent campaign.
Targeting adults 25 to 54, the OOH-only campaign features media by Barlow Media, which also worked closely with the tire dealer to produce the creative.
Using Pattison Outdoor and Astral Out of Home's digital billboard networks in major markets such as Toronto, Vancouver, Calgary and Edmonton, the execution features creative that uses dynamic and conditional data feeds from Worldweatheronline.com and Weatheroffice.gc.ca to change messages and promote different types of tires that are suited to the weather and driving conditions.
Carrie Barlow, president, Barlow Media, tells MiC that placing the ads along major thoroughfares in large urban markets allowed not only broader reach, but also a chance to reach drivers in the environment where they may be thinking about the kinds of tires they need.
Brian Scotland, media planner and buyer, Barlow Media, adds that this campaign marks the first use of OOH for Kal Tire in recent years. He says OOH appealed to the brand due to the technological advancements that have been made in the medium, that allow brands to change their messaging almost instantly, and give them greater control over their campaigns.
The campaign runs through the week of Feb. 18.