Labatt brews up a Bud Light Platinum campaign
The beer company leveraged its Super Bowl sponsorship to launch the light beer offering in Canada and will promote it throughout 2013.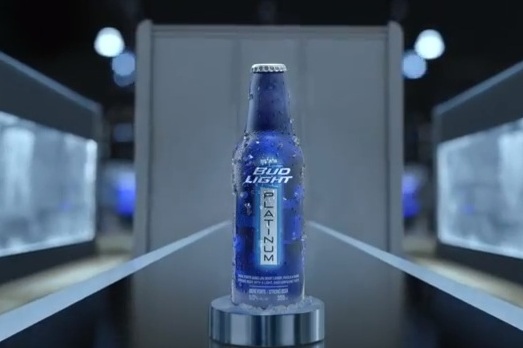 Labatt hoped to score with beer drinkers and football fans Sunday, leveraging its sponsorship deal with the Super Bowl as a platform to officially launch a campaign for the Canadian arrival of Bud Light Platinum, its latest product offering.
The campaign features media by UM Canada and creative that was designed in the US by Bud Light's agency Translation, and adapted for Canada by Anomaly's Toronto office. The 30-second TV spot depicts the process behind the creation of the new brew and follows a bottle on its journey through the fictional Bud Light Platinum factory. The brand's Super Bowl appearance followed two soft launch events in Toronto and Montreal on Jan. 31 that were aimed at introducing the beer to the media and driving sampling.
Targeting adults from legal drinking age to 29, Todd Allen, director of marketing, Anheuser-Busch InBev, tells MiC that the new product will expand the brand's reach with younger drinkers. He adds that promoting Bud Light Platinum will be a key pillar of Labatt's marketing strategy throughout 2013.
TV ads will continue running nationally across conventional and specialty channels, including TSN and CTV, and will be supported by digital buys, including homepage takeovers on TSN.ca and RDS.ca as well as masthead ads on YouTube, OOH in major urban markets and experiential sampling events.
Allen says that the campaign will continue to focus its message on introducing the new beer, and promoting its attributes and packaging, which includes 650 mL glass bottles.
While the launch of Bud Light Platinum is key to Labatt's 2013 marketing plans, Allen says the brand will spend 2013 focusing on deepening its ties to the NFL with brand activations, promoting its Bud Light Lime Mojito in its second year in market and preparing to launch campaigns for the fast approaching summer season.
Despite Thursday's announcement that Justin Timberlake has signed on as creative director for Bud Light Platinum in the U.S., Allen says that Bud Light Canada will wait to see how the new creative plays out in the States before bringing it to Canada.