LCBO buys big: Media Monitors
The Crown corporation bought the most airtime in Toronto, for the week of Jan. 28 to Feb. 3.
The LCBO bought the most radio airtime in Toronto for the week of Jan. 28 to Feb. 3, according to the latest Media Monitors report.
Coming in at #2 was the CBC, which jumped from #4 the previous week. Last week's #1, Pizza Pizza, dropped to #3 for the week.
Entering the list this week was The Beer Store at #6 and Thrive Products in the #10 spot.
Montreal's #1 stayed steady with Brault & Martineau again buying the most radio time for the week.
Porter Airlines jumped from #15 to #2, BMW Mini Laval moved from #6 to #3 and Rogers Wireless jumped onto the list in the #4 spot in other big moves in the city for the week.
Toronto:
By brand
By category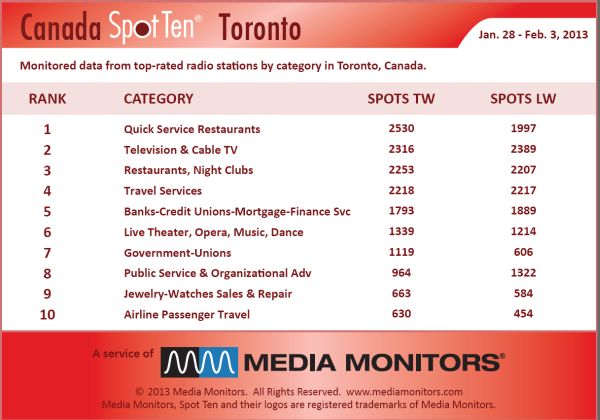 Montreal:
By brand
By category