The Kit redesigns on tablet and smartphone
With a cleaner portrait-style design and more visuals and interactive features, the fashion and beauty magazine is aiming to lead in its category for mobile publications.
Star Media Group-owned fashion and beauty title The Kit has launched a redesign of its tablet and mobile versions, increasing the visual and interactive components available in each of its 10 annual issues.
Kelly Whitelock, associate publisher, The Kit, tells MiC the changes were kicked of by a switch to Adobe as the back-end provider, which is the same model the Conde Nast magazines use.
"Readers have new expectations with consuming digital media, so we've redesigned our interactive magazine to fully utilize the multi-touch and multi-sensory experience that today's technology offers," said Whitelock in a release. "For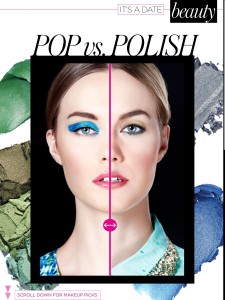 advertisers there are opportunities to interact with readers in unique ways that are both meaningful and engaging."
The design has changed from a two-page landscape model to a portrait one, with interactive components like a spinning Hermes bag and slider with a woman's face that goes from daytime makeup to night, says Whitelock.
She adds the sweet-spot target for The Kit brand overall is people aged 35 to 49, skewing a bit younger for the mobile app. The Kit has over 100,000 app installs and 70,000 subscribers to its online version, according to stats provided by the Star Media Group.