Shoppers Drug Mart's got so much love
The pharma-retailer wraps up its Valentine's day promotion with a contest and survey.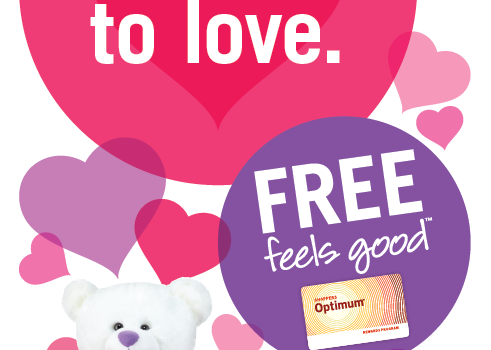 Shoppers Drug Mart is into the final stretch of the "So Much to Love Campaign" designed around its Optimum program.
Radio, print and lower third ads on specialty programs, which launched Jan. 19 and run until Feb. 18, drove people in stores, where signage emphasized there was "much to love" about the loyalty program. It's a continuation of the rebranding efforts undertaken by the brand, that "Free Feels Good," and that collected Optimum points can be used for varying purposes: small discounts, big shopping sprees, beauty items or health care products.
"We thought there was some great synergy between Valentines Day, which is a seasonal theme that we would be participating in from an in-store perspective, and our Optimum program, which we know there is so much passion from our members," Amy Ferguson, marketing manager loyalty and financial services, Shoppers, tells MiC.
The creative, done in-house, replaces Optimum's traditional use of bubbles with pink and purple thematic heart, two of the brand's five-colour scheme (which also include, blue, green and orange).
A print wrap ran on the Toronto Star's Saturday edition, while the lower thirds for TV appeared on shows such as 'Til Debt Do Us Part on Shaw's specialty channels, placed by media buyer Aegis.
"We thought there could be some fun integration there because people are thinking about saving money and optimum is such a great way to shop smart," she says.
Signage throughout the retailer emphasized the messaging, and with each purchase, Optimum members were driven online, to Iloveoptimum.ca, for a chance to win a trip for two to the Mexican Riviera.
Shoppers Drug Mart has used travel contests many times over the past year to good success, so it was a natural fit for this promotion, Ferguson says.
Once people have signed up for the game, they receive 10 free "letters" (all in the shape of hearts) to spell out different love- or Optimum-themed words. Each completed word gives participants a chance to win the grand prize, while each shopping trip earns more letters. At random intervals, questions about Optimum pop up for a chance to earn more letters (such as "What is the new slogan," or "How do I learn my account balance,"), directing back to the website where the answer can be found. Extra letters are also dished out for sharing with friends or family, entering your Optimum number or sharing tips on how to optimize point collections.
"The "I love Optimum" game experience is all about learning about the program, and there's an opportunity for people to share their optimum secret," she says. "We know that happens naturally all over our Facebook page, they all have these great passionate secrets for how they get the most out of optimum, so we just wanted to give them an opportunity for members to share that as part of the contest. And it gives other people who might not be as familiar with the program an opportunity to learn about Optimum."
To date, more than 300,000 people have registered with the game, she says, which is comparable to other contests the brand has run.
Finally, as part of the PR push around the campaign, Shoppers Drug Mart surveyed more than 1,000 coupled (married, co-habitating or dating) Canadians between Jan. 15 and 16 on their Valentine's Day shopping habits. The study found that 51% of Canadians wanted a romantic dinner or date this year, and that gift cards were as popular a gift as chocolates. It also found that 90% of respondents predicted they would be buying a gift for their significant other this Valentine's Day, with 18% saying they'd go to Shoppers Drug Mart for a last-minute item. This was highest among Ontarians (at 27%), while Quebeckers were most likely to shop at small boutiques  (18%) for last-minutes trips.