AdCentricity grows mobile network
The location-based ad solution provider will rep the ad inventory for GreenOwl Mobile's series of traffic alert apps.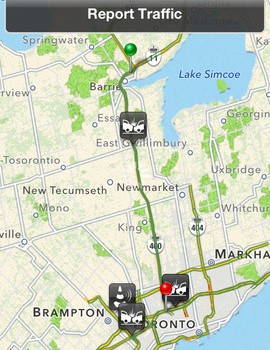 AdCentricity has expanded its mobile advertising network, courtesy of a deal with app designer GreenOwl Mobility.
The deal will see the location-based advertising solution provider represent the ad space for GreenOwl's series of mobile traffic apps, including the CP24 Traffic Alert, the CTV Cottage Traffic Alert, the Rock 95 Barrie Traffic Alert and the GreenOwl Traffic Alert. It will also include the upcoming York Region and CTV Vancouver traffic alert apps, which are slated to launch in April.
Brian Hewlitt, COO, AdCentricity, tells MiC that the partnership with GreenOwl will grow Adcentricity's network of ad offerings targeted at a core audience of adults aged 20 to 35. He says ad opportunities will include splash pages, icon placements, location-based messaging that drives to a brand's nearest location, and audio and video traffic alert sponsorships.
Looking forward, Hewlitt explains that adding new media platforms, such as mobile apps, to its existing network is a core part of AdCentricity's business strategy.