BlogTO launches late night eats app
The website has launched the new iPhone app, sponsored by Questrade.
BlogTO has launched a new app, showcasing Toronto Bars, Pubs & Late Night Eats in the Apple app store. The app is the third for the brand, which has previously launched a BlogTO app and one for its Patio Guide for Apple and is developing Android versions of both.
The free app, which is sponsored for the first year by online brokerage Questrade, is designed to be a go-to guide for a night out in Toronto, with photos and information for hundreds of bars, pubs and late-night eating spots in the city. The app allows users to search by filters like whether the venue has live music, a patio or whether it serves pitchers of beer or has beer on tap, according to a release. It also features a "shake" feature to reveal a random venue to visit.
Tim Shore, founder and publisher of BlogTO, says the partnership with Questrade includes a fullscreen interstitial banner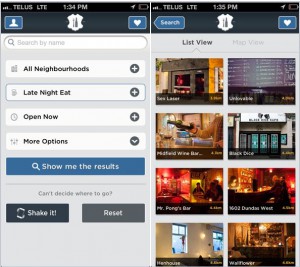 as well as 320 x 50 banners throughout the app, as well as ads online on the BlogTO site. He adds that while there aren't currently additional ad opps open on the site he is open to talking with clients who have ideas for additional executions.
The target demographic for BlogTO's site and apps is Torontonians between the ages of 20 and 35 who are socially and culturally engaged in the city, says Shore.