Crew Magazine launches
Targeting gay men, the online publication has kicked off with launch sponsor RBC.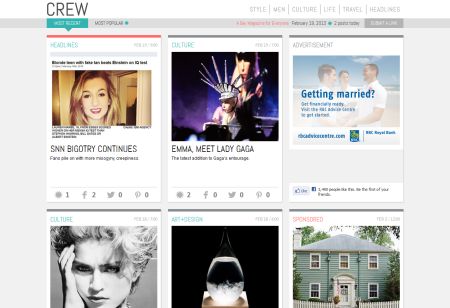 Crew Magazine, a Canadian online publication targeting gay men aged 25 to 54, has launched with sponsor RBC.
The goal behind Crew, which is part of the Kuration Media Group, is to reach its target with a variety of lifestyle content, not just sex and politics, which Peter Coish, publisher, Crew Magazine, tells MiC is the common thread behind the majority of publications aimed at gay men.
Crew officially launched last week with an online video, which showcases a take on Dodge Ram's Super Bowl commercial, "God made a farmer" with  "God made a gay man."
"If you're going to have an online publication, it seems so obvious, but you need to launch with a campaign that is also online," says Coish. "What it comes down to is needing to build your brand online so they make that click over to your site."
Coish says additional advertising opportunities on the site include standard digital ad units, including the IAB Rising Star units as well as development packages for custom content. He uses the example of articles created for current sponsor RBC, such as pieces on urban versus suburban living. The publication also plans to ramp up its video content, with ad opportunities available there as well in the future.
"We are trying to create an advertiser friendly environment here," he says. "I think Canadian advertisers will see the opportunity in this market, it is an affluent and lucrative audience."