Toronto Life launches event series
The St. Joseph Media publication is kicking off its new series with a real estate event on March 27.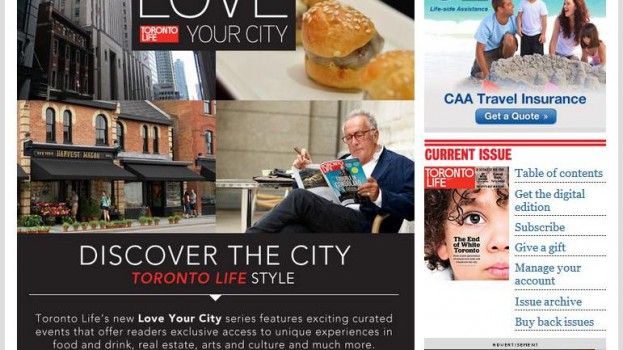 Toronto Life is expanding its offerings, launching a new event series called "Love your City," aimed at helping the magazine better connect with readers and the things they like best about the publication.
The series starts with a real estate event called "Buy, Sell or Hold: The Future of Toronto Real Estate" on March 27 at the Arcadian Loft in Toronto, timed with the launch of the 2013 edition of the Toronto Life Real Estate special issue. Tickets for the event are $40 and sponsorship packages are targeted at businesses that typically reach out to the real estate community, Caroline Korycki, marketing and promotions manager, Toronto Life, tells MiC.
Korycki says that the events are targeted at different audiences based around themes, adding that the second event in the series is called "The Art of the Cocktail," with a date and event venue still yet to be announced.
The target audience for Toronto Life is adults between the ages of 25 and 54, with the median age of print readers being 44 and online readers at 35.
"We also target more [based on] psychographic and lifestyle," she says. "Anyone who is an urban adventurer and looking to get the most out of the city."