Toronto FC signs with Labatt
The deal with the MLSE soccer team gives the brand's Budweiser beer pouring rights at BMO Field.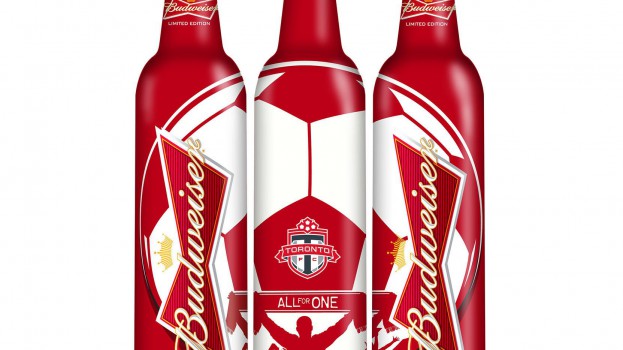 Toronto FC is kicking off the 2013 season by announcing a new beer sponsor. The MLSE team has signed a deal with Labatt Breweries of Canada brand Budweiser that makes it the official beer of the Toronto FC and BMO Field.
The partnership, which replaces the one the team had with Carlsberg Canada until the end of last season, gives Budweiser pouring rights at the Toronto pitch.
To celebrate the partnership, Budweiser is launching a commemorative Toronto FC-branded aluminium bottle that will be available at select GTA LCBO stores starting Feb. 25.
In addition, prior to every home game, Budweiser will host a pre-game celebration at BMO Field with the Budweiser Big Rig, live music and giveaways. During the game, fans will have access to the new Budweiser King Club at the north end of the pitch, according to a release.
The sponsorship deal also includes some community-facing components: Budweiser will launch its Good Sport designated driver program, which encourages fans to volunteer as designated drivers at BMO Field this season. It will also donate $340,000 to the MLSE Team Up Foundation.
In advance of Toronto FC's March 9 home opener, Budweiser will host a pre-match party at Real Sports Bar & Grill, which will end with a Budweiser-and-Toronto-FC march to the game at the Rogers Centre. More information about the launch event will be available on Torontofc.ca and Budweiser Canada's Facebook page.