The BC Children's Hospital hopes to grow
The hospital has launched a new campaign that aims to raise money for construction of a new space.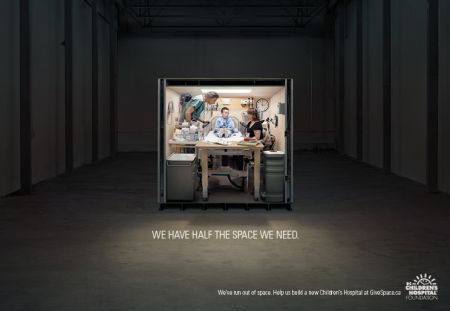 The BC Children's Hospital has launched a new campaign, aimed at getting to the root of why the hospital needs a new facility.
With media and creative from Dare Vancouver, the TV, radio, OOH and digital campaign features creative that uses optical illusions to bring the BC Children's Hospital's space shortage to life. The campaign is in market now and runs until the end of March.
"The goal of the campaign is to raise $150 million to support the construction of a new BC Children's Hospital," Natalie Wu, director of client integration at Dare Vancouver, tells MiC. "The current hospital does not have enough space to perform the level of care required for children on an ongoing basis.  Some of the reasons why a new and larger building is required include the fact that we have a growing population, bigger operating teams, greater use of technology and cramped patient rooms.
The TV spots, which are airing on Global, were created with Dare and Toronto-based production company OPC FamilyStyle to create the spots. "Hospital Ward" uses an Ames room, so people appear bigger as they walk across it and "Operating Room" uses eight-foot ceilings at one end and five-foot ceilings at the other, so the room appears to be getting smaller as people enter it.
OOH print creative shows hospital staff working in half the space they need and online ads, which run on the sites for the Vancouver Sun and The Province ask users to check a child's temperature by pressing a button. As the user moves their mouse over the ad the cursor becomes excessively large to replicate the feeling of nursing staff who have little room to perform their jobs.