AToMiC: Vervegirl goes 4D
The girls' magazine's latest cover uses both an augmented reality experience a scratch-and-sniff feature that allows readers to sample the latest Garnier Fructis product.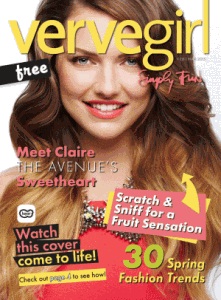 Vervegirl magazine is giving its readers a sensory experience that goes beyond sight with the cover of its recently released February/March issue.
Courtesy of a partnership with Garnier Fructis, arranged through ZenithOptimedia, the magazine has created a so-called "4D cover" that allows readers to scratch and sniff the cover model's hair and sample Fructis' new Fruit Sensation Passion Splash product. The effect was created using a varnish made by Germany-based Schubert International and applied by printer TC Transcontinental.
The cover of the magazine, which targets girls, aged 14 to 24, features Claire, a character from Canadian YouTube reality series The Avenue (which Vervegirl executive produces). With the help of an augmented reality app from Holland-based Layar, readers can also bring the issue's cover to life and see Claire talk about Fructis' new product, as well as take a behind-the-scene look at the cover photoshoot.
Beyond the cover, brand activations for Garnier in the issue include colour and scent-inspired editorials and product tests and reviews by YouTube beauty reviewers.
Kaaren Whitney-Vernon, publisher, Youth Cuture, tells MiC that the concept for the cover came from consumer research, which suggested that girls tend to buy shampoo based on scent.
Apart from the scratch and sniff and augmented reality features, Whitney-Vernon says the issue will also be a part of an upcoming episode of The Avenue, allowing the magazine to reach the series' established fanbase as well as its own.
What is AToMiC? AToMiC stories are about cutting-edge advertising, technology, media and content creation. The AtoMiC conference and award show is hosted by Playback and strategy magazine. Read up on the most recent winners here.