Best Health magazine launches iPad app
The women's lifestyle magazine will now offer advertisers opportunities to sponsor issues and bundle print and digital ad buys.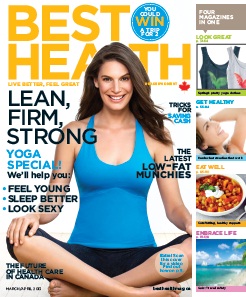 As Best Health magazine blows out the candles for its fifth birthday, it's also celebrating the launch of an iPad app for its recently released March/April issue.
With the new app, the women's health and lifestyle publication, which is published by Reader's Digest Magazines Canada and targeted at women aged 25 to 54, will now offer advertisers opportunities to exclusively sponsor whole issues, or to bundle print and digital buys.
Coinciding with the release of the app, retailer Mountain Equipment Co-op was incorporated into the issue as a sponsor of a behind-the-scenes video of the cover shoot.
Bonnie Munday, editor-in-chief, Best Health magazine, tells MiC that the app version of the magazine will differ from the print edition by offering interactive features such as quizzes and exclusive content, including a video for its "10-minute Tune-up" workout article and quick-fix recipes. In addition, many pages in each issue will be instantly shareable through Facebook and Twitter.
Along with the new iPad app, Best Health is celebrating with a year-long contest that will give away $6,000 worth of prizes per month, with a grand prize of a trip to Jamaica.