Blog: Rollout of m-commerce platforms on a global scale
Details on MasterCard's plans to expand its PayPass mobile wallet and Visa and Samsung's global partnership, live from the Mobile World Congress.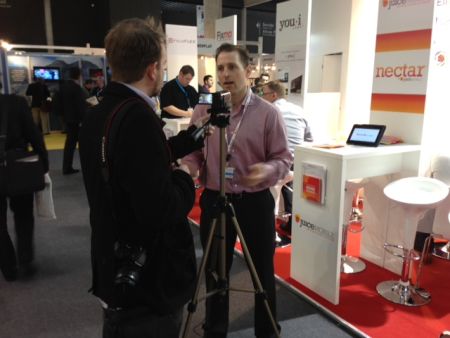 Neil Sweeney, president and CEO of Juice Mobile, is in Barcelona this week at the Mobile World Congress and is bringing the biggest headlines to MiC readers by blogging from the event. Yesterday, he blogged about the launch of Mozilla's new Firefox OS.
The world's two largest credit card companies, Visa and MasterCard, kicked m-commerce innovation into high gear with game-changing product launches this week at Mobile World Congress.
MasterCard revealed plans to launch MasterPass, an enhanced version of its PayPass mobile wallet, next month in Canada and Australia before expanding to the US, UK and beyond. With MasterPass, MasterCard aims to place more emphasis on connecting merchants and retailers with penny-pinched consumers seeking cheaper and more efficient online shopping experiences.
This product will empower businesses to integrate MasterPass into a diverse range of device-agnostic, mobile-friendly shopping experiences created through NFC-enabled transactions, online payments and QR codes. Additionally, it will enable merchants, retailers and banks to offer their own branded digital wallets through the MasterPass API. The credit card giant also plans to include valued-added services like mobile loyalty programs and real-time account alerts.
Meanwhile, Visa and Samsung announced a global partnership to pre-package all next-generation mobile devices with the NFC-enabled payWave app. This move would effectively put 100 million mobile wallets in the hands of consumers each quarter. Visa also announced Roam as the company's first mobile point-of-sale partner for the Visa Ready Program. This partnership will enable third-party technology companies, OEMs, platform providers, card manufacturers and mobile network operators to incorporate Visa's m-commerce platform through SDKs and APIs.
The mobile wallet is coming much faster than people think and the sheer volume of start-ups and tech giants looking to tap into this capital blows the mind. Every second person is looking to transfer money, compare prices, buy products and more using smartphones.
Beyond the PayPass terminals Canadians have come to know, soon we will see even more self-checkout and mobile-based payment methods at local and online retailers. The way things are going, before marketers have time to blink, mobile wallets will reach the masses.
The GSMA – the host of Mobile World Congress – today released the Mobile Economy 2013 Report predicting mobile ecosystem's contribution to global GDP will cumulatively reach $10.5 trillion(US) over the next 5 years.
Everyone in the space should be thinking about how business models will change when consumers can make a one-click purchase from their smartphones. In the end, m-commerce trailblazers – like Google, Visa and MasterCard – will likely come out on top because integration with handsets that have NFC chips in them will quickly provide global scale to reach consumers.
The mobile consumer is moving way faster than marketers today and this is going to demonstrate itself again when by holiday 2013 people will be "suddenly" buying things with their phones. Android and iOS combined represent s 91.1% of the worldwide smartphone OS market in Q4 2012, the mobile space is one huge announcement away from having its lid blown off: once Apple unveils their NFC or mobile commerce strategy.
From a marketer's perspective, you better start to plan your m-commerce strategy because the mobile wallet will likely reach the masses before the end of the year.  When that happens, everything explodes and you want your brand to be there.