Kokanee brews up a movie release campaign
The Western Canadian beer brand is promoting The Movie Out Here with TV trailers and a partnership with Cineplex.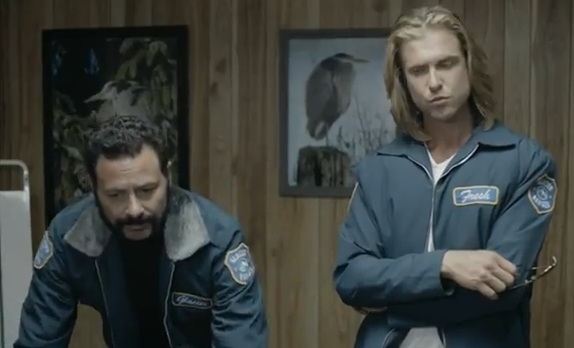 It's been almost a year since Labatt brand Kokanee announced its partnership with Alliance Films to release a full-length feature. But with the movie set for its theatrical release Friday, the brand's promotion campaign is in full swing.
The Movie Out Here follows a Toronto lawyer as he returns to his hometown of Fernie, B.C., gets involved in an adventure to help save his friend's ski waxing business and feature's the brand's cast of ad characters, including the Kokanee Rangers, Sasquatch and the Glacier Girls.
Targeting the brand's core audience of men aged 19 to 25, the campaign features media by UM and creative from Grip Limited (which also worked with the brand to create the movie). It includes 30-second TV trailers airing on TSN, CBC and Sportsnet in Western Canada, with longer trailers running on the Themovieouthere.ca.
A partnership with Cineplex will see pre-cinema ads run, and the theatre chain will offer bonus Scene points to members who see the movie. Bars in theatres in Western Canada will also be branded with movie posters, and Kokanee is giving away premiere weekend tickets on Facebook.
Randy Stein, partner, Grip Limited, tells MiC that creating a movie around the brand was a natural extension of its previous narratives, such as "Ranger Live or Die." He adds that it also gave Kokanee a novel way to get its consumer base involved in shaping the brand's identity on a larger scale.
To help make the movie, Kokanee kicked off its promotion by asking fans to participate by auditioning, sending in props, nominating songs for the soundtrack, or nominating bars to be featured as locations in the movie.
The campaign to promote the movie's release will run throughout its first week in theatres.