Reader's Digest Magazines Canada adds Layar
The media co is adding editorial content and advertising opportunities that can be accessed through the augmented reality app.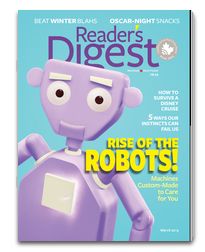 Hot on the heels of announcing an iPad app for its Best Health magazine earlier this week, Reader's Digest Magazines Canada has kicked off another digital initiative, adding Layar augmented reality features to four of its titles.
The spring issues of Reader's Digest (March), Sélection (March), Best Health (March/April) and Our Canada (April/May) will each have videos, content and promotions that can only be accessed through scanning specially selected magazine pages with using the free Layar app. Readers scanning Best Health will be greeted with additional content including a behind-the-scenes video of the month's cover shoot and a "Ten minute tune up" video.
Robert Goyette, editor-in-chief, Reader's Digest Magazines, tells MiC opportunities for advertising clients to add Layar-enabled content to their ads will also be available, but the media co is waiting on metrics from consumers using the app to come in before rolling those partnerships out.