Spotted! The Weather Network blooms into the new season
The channel promoted its Spring Outlook with a tulip-filled billboard on Monday morning.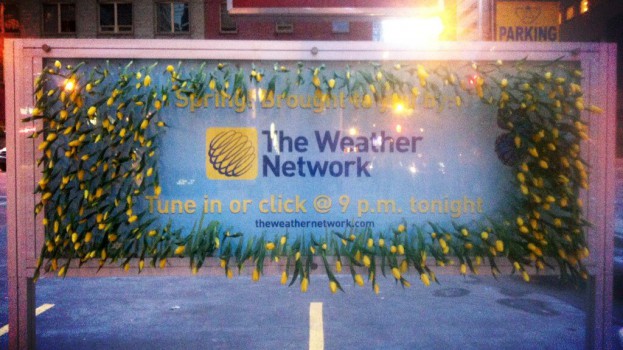 The Weather Network was hoping to put some spring into the steps of commuting Torontonians this morning with a live interactive billboard promoting its Spring Outlook.
With work from its PR agency, High Road Communications, the billboard featured 10,000 tulips that passersby were encouraged to take as they walked by Front and Simcoe St. this morning.
The interactive billboard also promoted The Weather Network's Spring Outlook, which launches tonight at 9 p.m. This morning's execution marks a departure from the brand's past strategy of targeting media only for its seasonal outlooks, now targeting consumers directly and asking them to tune into The Weather Network, Stacey Jarvis, VP marketing, The Weather Network, tells MiC.
"We want consumers to get the information first-hand from us," she says. "As we move forward we will be continuing to promote our seasonal outlooks with executions like these to let people know they are coming."