Where social TV is going in 2013: Di Paola
At DX3, Critical Mass' Matt Di Paola said advertisers need to use social media as a tool to gather consumer insight and engage in conversations.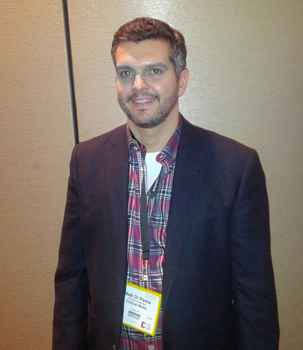 TV is no longer simply the subject of water cooler talk. Consumers have taken control of the conversation, and are looking to engage with their favourite shows before, during and after they're broadcast, all while they interact with fellow viewers via social media on secondary devices.
But while social TV and second-screen viewing are rapidly becoming the new normal for many consumers, Matt Di Paola, SVP, general manager, Critical Mass, said during day two of DX3 that Canadian brands and advertisers have fallen behind, and have failed to take advantage of the opportunities presented by a socially engaged viewer base.
He argued that the challenge facing advertisers is that they're still trapped in the marketing campaign mindset, and continue to use social media as a tool to push brand messages.
The rise of social TV, he said, offers brands new opportunities to engage in conversations with consumers around shows without the need to buy advertising, allowing them to gain insight on exactly what consumers are doing while they're watching TV.
Advertisers, he added, must begin to use the insights they gather from social media to create social and second-screen experiences that reflect consumer behaviour, and make them feel like they're a part of the brand. Additionally, as consumers gain more power in the consumer-brand relationship, advertisers will need to offer them the flexibility to choose how they want to participate in brand experiences.
He said this means agencies will have to learn to work more closely with their clients to be able to respond more rapidly to what is happening in the social sphere, and cited a recent spot by Telus that leveraged the Harlem Shake phenomenon as an example of what brands need to do to engage with consumers.
Looking forward, Di Paola said he expects advertisers will be better positioned to make better use of social media, as broadcasters begin to realize the importance of second-screen experiences, and offer more opportunities for brands to buy in.
Brands meanwhile, will realize the importance of keeping their messages in market for as long as possible, and will make increased use of social media to keep conversations with consumers going.