TC Media launches Vero
The women's magazine will launch in September and offer advertisers half and full-page ad opportunities.
TC Media is partnering with popular French TV and radio personality Véronique Cloutier to launch a new women's magazine called Véro.
Targeting women aged 25 to 49, the magazine will focus on health, beauty, fashion and lifestyle. Lise Paul-Hus, group publisher and VP, consumer solutions, TC Media, tells MiC that the magazine will differ from TC Media's similar offerings, such as Elle Quebec, because the editorial content will reflect and be inspired by Cloutier's established voice and personality.
She adds that launching the magazine was seen as an opportunity to build on the success that TC Media had with its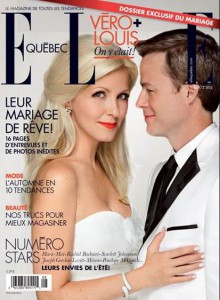 August 2012 issue (pictured left) of Elle Quebec that featured photos of Cloutier's marriage to boyfriend Louis Morissette.
Véro will run in print only during its initial launch, but TC Media is looking at tablet offerings as well. The magazine will provide advertisers with traditional half and full-page ad opportunities, which Paul-Hus says would be a good fit for fashion, health and beauty brands.
Paul-Hus says TC Media is still setting its targets for the magazine's newsstand circulation and subscription.
The magazine will run its first issue in September and publish quarterly.