Maybelline Canada partners with Fashion Week
The brand will offer on-site touch-ups to visitors, and produce behind-the-scenes content with fashion photography site The Coveteur.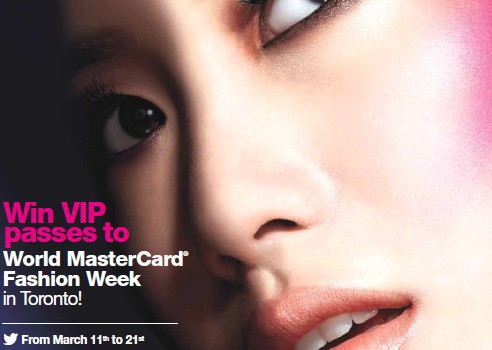 Maybelline New York Canada has partnered with World MasterCard Fashion Week in Toronto and is set to strut its stuff on the catwalk alongside brands such as Baileys Irish Cream.
With media by ZenithOptimedia and creative by Marketel, the brand has launched a new campaign to accompany its brand activations at the event. Targeting women aged 18 to 49, Maybelline is running ads in The Kit and the Globe and Mail that drive to its in-store promotions in Shoppers Drug Mart and Walmart, which include demos of products being used during Fashion Week and displays of the brand's Fashion Week collection.
Meanwhile, the brand is using transit shelter ads with the hashtag "#tweetforaseat" to promote a Twitter contest, which will offer consumers a trip to Fashion Week.
New for the brand as it enters its third season with Fashion Week is a collaboration with the founders of fashion photography site Thecoveteur.com. The partnership will see the coveteur team go backstage to lend its lens to the brand, and offer consumers a behind-the-scenes look at the event.
On-site, the brand will offer visitors an opportunity to stop by for a touch-up, and allow them to share their look using a specially created mobile app.
Katie Green, brand communications manager, Maybelline New York, tells MiC that partnering with Fashion Week in Canada is part of the brand's global strategy to help make fashion trends more accessible to everyday women.
She adds that Fashion Week is the perfect vehicle to extend the brand's reach with women 18 to 35, who are becoming increasingly active in social media discussions around fashion and beauty, and looking for their own ways to be trendsetters.
Fashion Week runs from March 18 to 22.